PVC RFID polsbandjes Rfid chip armband

Het is geen geheim dat de opkomst van RFID-technologie een hogere norm stelt voor de productie van festivals. Met Rfid Festival-polsbandjes zijn festivals meer dan een concert, een filmvertoning of een wijnproeverij geworden; ze zijn een persoonlijke ervaring voor elk individu in de menigte. Onmiddellijke beveiligde toegang, geldloze betalingen en integratie van sociale media zorgen ervoor dat fans zich geen zorgen meer hoeven te maken over tickets, portemonnees of telefoonontvangst. Alles draait om de pols - je kunt niet handiger zijn dan dat!


Feature voor Waterproof Soft Rfid PVC polsbandjes NFC armband
Materiaal: zacht pvc
Grootte: 230 mm lengte
Chip: MIFARE Ultralight® EV1 (Andere chip ziet het fichesvel)
Frequentie: 13.56MHZ
Protocol: ISO14443A
Leesbereik : 0,5 cm - 5 cm, relatief bij de lezers.
Gegevensprogramma: variabele nummers, URL, teksten, enz., Alleen lezen, gecodeerd
Craft: logo afdrukken, datas-programma, QR-code, afdrukken van nummers, op maat gemaakt pakket.
Werkomgeving: -25 ℃ tot 70 ℃
Toepassing: veel gebruikt op campussen, pretparken, bussen, toegangscontrolegebieden, concerten en tickets enzovoort.
Onze diensten:
3-5 dagen snelle monsters maken
Aangepast gegevensprogramma
OEM / ODE-mogelijkheid. Aangepast formaat, vorm, afdrukken en materiaal allemaal beschikbaar.
Grootte en productoverzicht: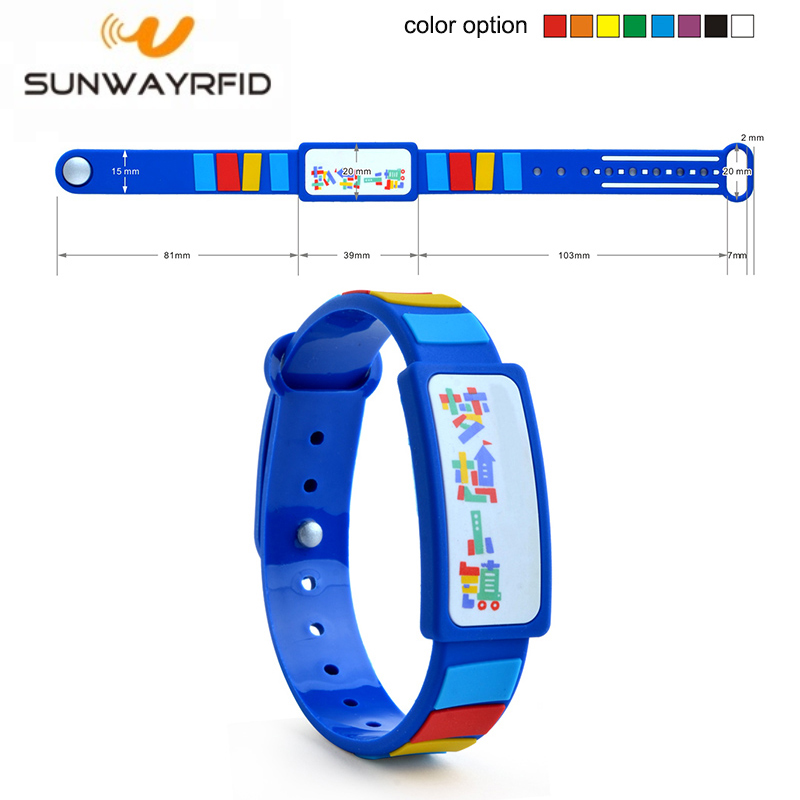 Chips beschikbaar voor RFID-polsbandjes:
NFC Type 2, ISO14443A,

13.56MHZ




NTAG® 213 (144 bytes)

NTAG® 215 (504 bytes)

NTAG® 216(888 bytes)

NTAG® 210 (48 bytes)

NTAG® 212 (128 bytes)

NTAG®413 DNA (160 Bytes)




NTAG® are registered trademarks of NXP B.V. and are used under license.

NFC Type 2, ISO14443A, 13.56MHZ




MIFARE Ultralight® EV1 (48 Bytes)

MIFARE Ultralight® C (148 byte)




MIFARE and MIFARE Ultralight are registered trademarks of NXP B.V. and are used under license.

NFC Type 4, ISO14443A, 13.56MHZ




MIFARE® DESFire® 2K / EV1 2K / EV2 2K

MIFARE® DESFire® 4K / EV1 4K / EV2 4K

MIFARE® DESFire® 8K / EV1 8K / EV2 8K




MIFARE DESFire are registered trademarks of NXP B.V. and are used under license.

ISO14443A, 13.56MHZ




MIFARE® Classic 1K Bytes

MIFARE® Classic 4K bytes




MIFARE and MIFARE Classic are registered trademarks of NXP B.V. and are used under license.

MIFARE Plus® S 1K SE

MIFARE Plus® S 2K / S 4K

MIFARE Plus® X 2K / X 4K

MIFARE Plus® EV1 2K / 4K




MIFARE and MIFARE Plus are registered trademarks of NXP B.V. and are used under license.

ISO15693/ISO18000-3, 13.56MHZ




NXP® ICODE® SLI (1Kb)

NXP® ICODE® SLI-X (1Kb)

NXP® ICODE® SLI-S (2Kb)

NXP® ICODE® SLI-L (512b)




ICODE® are registered trademarks of NXP B.V. and are used under license.

125KHZ




TK4100, EM4200, T5577, EM4305

860MZH-960MHZ, 18000-6C




Alien H3, Impinj, Ucode GEN2
Product Categorie : Silicone RFID-polsbandjes > Kleurrijke siliconen RFID polsbandjes