ACR122U nfc-lezer op voorraad, klaar voor verzending zodra de bestelling is bevestigd!
Deze ACR122U-lezer van ACR ondersteunt ISO 14443 Type A en B, MIFARE®, FeliCa en alle 4 typen NFC (ISO / IEC 18092) -tags.
Met uw aankoop van de RIFD NFC-lezer, krijgt u gratis software voor uw Wins of MAC.
Zeer eenvoudig te bedienen voorvorm, gemakkelijk om uw NFC-tag te lezen en te schrijven met deze 13,56 MHZ RFID-lezer.
De ACR122U RFID-lezer is een eenvoudige maar krachtige bediening, waardoor deze populair is bij e-overheid, e-banking, e-betalingen, e-gezondheidszorg, transport, netwerkbeveiliging, toegangsbeheer en loyaliteitsprogramma, enzovoort.
SunwayRFID doet RFID-nfc-lezerinventaris, altijd gereed voor verzending zodra de bestelling is bevestigd.
Technische informatie:
Dimensions
98.0 mm (L) x 65.0 mm (W) x 12.8 mm (H)
Weight
70.0 g
Compliance / Certifications
ISO 18092, ISO 14443, PC/SC, CCID, EN60950/ISO 60950, CE, FCC, MIC, KC, VCCI, RoHS 2, USB Full Speed, Microsoft® WHQL
Interface
USB Full Speed
Operating Distance
Up to 50 mm (depends on the tag type)
Supply Voltage
Regulated 5V DC
Supply Current
200mA (operating); 50mA (standby); 100mA (normal)
Operating Temperature
0-60 °C
Operating Frequency
13.56 MHz
Smart Card Interface Support

ISO14443 Type A & B
MIFARE
FeliCa
4 types of NFC (ISO/IEC18092) tags

Operating System Support

Windows®
Win CE 5.0 and 6.0
Linux®
Mac OS®
Android™ 3.1 and above
OPMERKINGEN
De ACR122U-stuurprogramma's zijn erg laag en vereisen technische expertise. Er is geen technische ondersteuning beschikbaar.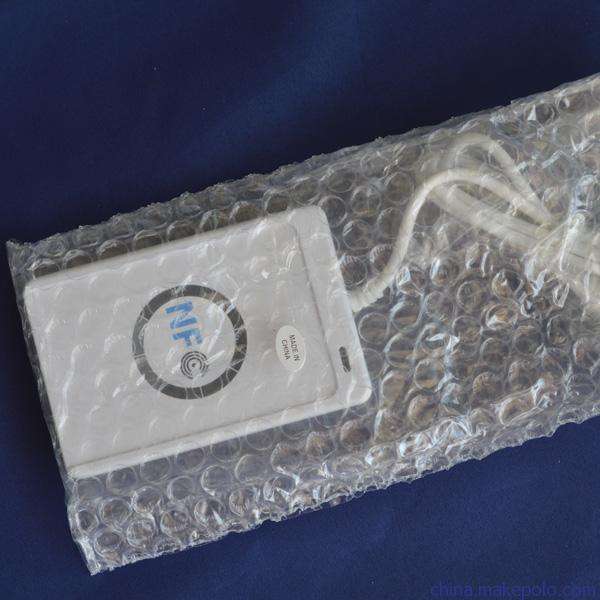 SunwayRFID biedt soorten RFID-polsbandjes, NFC-polsbandjes, RFID-tags, RFID-kaarten, stoffen polsbandjes, siliconen RFID-polsbandjes, enzovoort.
Schiet ons uw verzoek per e-mail op, dan bent u binnen 24 uur terug!
Product Categorie : RFID-lezer